COOKING LESSONS
Passion, Fun, Alchemy
Passion, Fun, Alchemy,

 
cooking is all this for me and I want to share it with you. We'll go all together to the
market of St. Ambrogio
, a little gem in the area of Santa Croce, where we shall select our products from the overflowing stalls packed with fruit and vegetables and other Tuscan specialties. With bags full of shopping, we shall be ready to go into the kitchen to prepare our lunch according to the
lesson you have chosen
. As we are  cooking we shall have time to chat and I will reveal those precious
 

family secrets
that guarantee the success of the dish in preparation. And when we're done, we just have to sit at  table to enjoy the result of our "hard work" while sipping a glass of wine.
Vegetarian and Vegan guests
and
dietary restrictions
are welcome! Just let us know when you book!
This is one way to be travelers and not simply "tourists".
Buon appetito!
Mariangela
FOLLOW YOUR TASTE
Culinary Course
THE REAL "HOME COOKING"
Tutti a Tavola
After the visit to the market we will prepare a typical Italian menu for a feastday, including dessert! and chatting over lunch you will discover many curious things concerning "la cucina povera" peasant cooking. The perfect result is guaranteed and when back home you can invite your friends to an authentic Italian meal! 
On request we can also plan a vegetarian menu.
IT IS EASY TO MAKE FRESH PASTA
Pasta che Passione
…but it has to be cooked "al dente"!
After our trip to the local market our lesson will be focused on the preparation of fantastic homemade pasta! We will make different sauces and see why sometimes we use pecorino  and sometimes  parmigiano  cheese. You will knead, cut, roll and fill ravioli, tagliatelle, pici or other varieties and you will be very happy and proud of your job!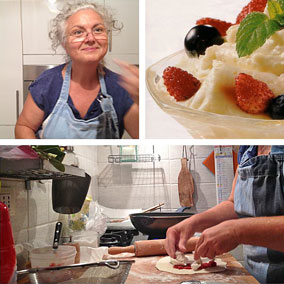 I LOVE…ITALIA!

…
Pizza & Gelato
Even with our home oven we can make delicious pizzas! you will learn how to make the dough and stretch it with the rolling pin; we'll season the different kind of pizza with the freshest ingredients bought at the market. While the pizza is baking we'll prepare a tasty and creamy Italian Gelato.  Once the pizza is ready we'll enjoy each yummy slice: get ready for awesome flavors!
SCHEDULES AND RATES
Information on Cooking Lessons
*These prices are for the B&B guests – all activities are also for outsiders: prices and availability on request.
If you wish to follow lots of lessons, please ask for a tailor made quote.
Fill in the form. We will reply in detail to proceed with your booking.