Known throughout the world for its excellent wines, the Chianti area is a hill region situated in the centre of Tuscany, between Florence and Siena.
Country farmhouses, towered castles and ancient villages dotted around amidst vineyards and olive groves: this is the typical landscape of the Chianti, perhaps the most well-known area in Tuscany.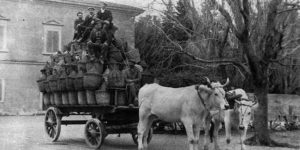 A trip to the countryside surrounding Florence becomes even more pleasant if – you have the opportunity to admire a wine cellar and taste a glass of wine or a slice of Tuscan bread topped with genuine oil.
September and October are the months for the Tuscan "vendemmia", the Italian word for the grape harvest. So it is a perfect time to come to Florence! There are often farmers' markets and you will have a good look at the overflowing stalls packed with fruit and vegetables and other Tuscan specialties